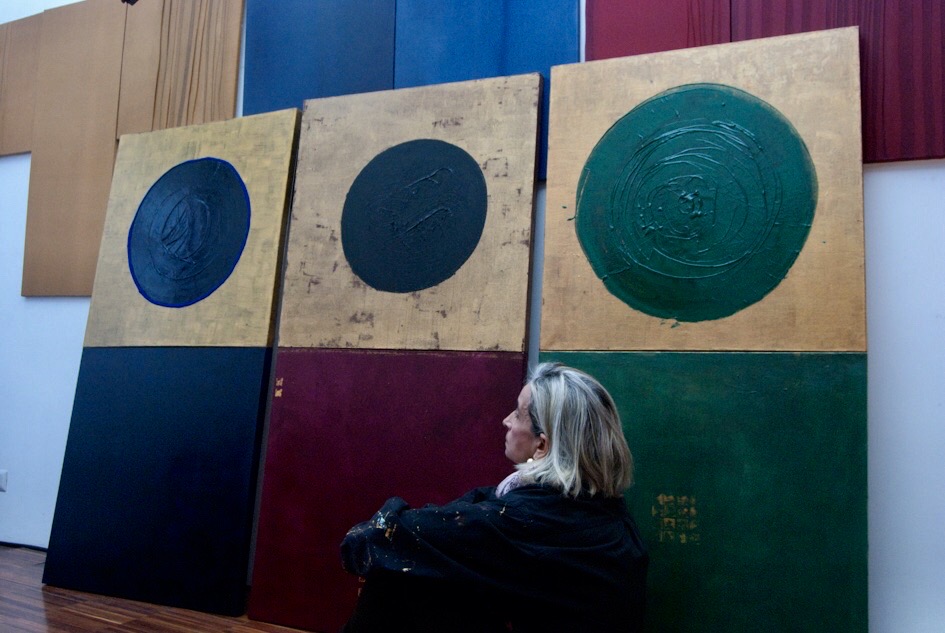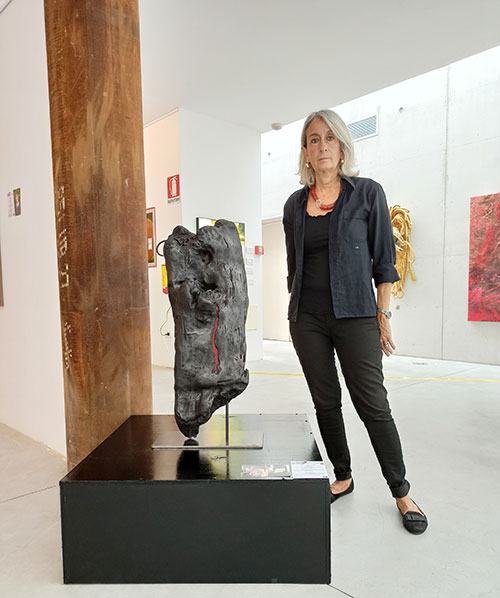 HUMAN RIGHTS?, AIAPI-UNESCO 2020
Artist living and working in Rome.
ACADEMIC
1982 Master's degree in Fine Art (Conservation and Restoration) in ICR, Rome.
1983 Specialization in Fine Art (Conservation and Restoration) in ICR, Rome.
1984 Master's degree in Modern Art History (AM) at La Sapienza University of Rome, Professor Maurizio Calvesi.
1987 Postgraduate biennial Specialization in Medieval and Modern Art at Urbino University.
2012 Master in Economy of Cultural Heritage at Tor Vergata University in Rome, Department of Economy.
PROFESSIONAL BIO
In 1987 after the completion of her Humanistic Studies, she joins the Ministry of Fine Arts as Conservator-Restorer and as Art Historian in the Istituto Superiore per la Conservazione e il Restauro (former ICR).
There she performs restoration, research and teaching. Among various conservation works, she participates to the conservation-restoration of wall paintings by Cimabue, Giotto and Pietro Lorenzetti in the Basilica of Assisi.
She also works on the frescoes in the Loggia di Psiche by Raffaello in the Villa La Farnesina in Rome. In Italy she directs several restorations, such as that of the Alcove of Federico da Montefeltro in the Palazzo Ducale in Urbino.
In China she coordinates the restoration project of the wooden throne of the Emperor in the Hall of Supreme Harmony in the Forbidden City in Beijing.
At the Master of Arts School of the Istituto Centrale del Restauro, she has been teaching Exegesis of Technique Sources, investigating the history of painting techniques, specifically in the production of ancient pigments and gilding. In this frame she enlarged her knowledge about manuscripts concerning alchemic technology, attending to several congresses in Italy and abroad as well as editing various scientific contributions.
She exhibited in solo and in group shows in Europe: Italy (Rome, Milan, Turin, Padua), Spain (Barcelona), Denmark (Copenhagen), Czech Republic (Prague), and in U.S.A. (New York) in public spaces (Contemporary Art Museums, Embassies, IIC Italian Institutes of Culture abroad, Theatres, Churchs) in private galleries and in architecture studios.
She has been in permanence and represented by Agora Gallery (N.Y.), Rossocinabro Gallery (Rome), Ariele Gallery (Turin).
Finalist in 2021 in Pordelio International Prize .
In 2021 and 2020 she exhibited at the Campana dei Caduti Foundation in Rovereto (TN) for IIA / AIAP-UNESCO, in 2020 at BIAS Institute, International Biennial of Contemporary Sacred Art.
Shortlisted in 2020 at ICCR – Indian Council for Cultural Relations Art Competition (category expert artist) New Delhi, in 2019 at Florence Biennale and, in 2017 at 44° Sulmona International Prize, finalist in 2011 in the International ItaliaArte Prize, villa Gualino (Turin).
She made props for theatrical performance.
She is a professional artist meber of IAA/AIAPI UNESCO
Present in national and international catalogs.
Her artworks are in Italian and foreign collections.
Vive e lavora in Roma.
STUDI ACCADEMICI

1982 Laurea magistrale in Conservazione e Restauro - Istituto Centrale del Restauro (ICR) in Roma.
1983 Perfezionamento presso ICR nella Conservazione e Restauro, Roma.
1984 Laurea magistrale in Storia dell'Arte Moderna a La Sapienza, con Maurizio Calvesi.
1987 Perfezionamento post lauream in Arte medievale e moderna presso l'Università di Urbino.
2012 Master in Economia della Cultura all'Università di Tor Vergata in Roma, Facoltà di Economia.
ESPERIENZA PROFESSIONALE

Nel 1987 finiti gli studi umanistici, entra nel Ministero per i Beni e le Attività Culturali presso l'Istituto Superiore per la Conservazione ed il Restauro (ex ICR), svolgendo nel tempo funzioni di Conservatore e di Storico dell'Arte.
Presso tale Istituto assume incarichi di conservazione, di ricerca e di docenza. Fra i lavori di restauro esegue l'intervento sui dipinti murali di Cimabue, di Giotto e di Pietro Lorenzetti nella Basilica di Assisi.
Si occupa anche degli affreschi de La loggia di Psiche di Raffaello nella Villa La Farnesina. In Italia dirige diversi interventi di conservazione e restauro, fra cui quello della Alcova di Federico da Montefeltro nel Palazzo Ducale di Urbino.
In Cina coordina l'intervento sul trono ligneo dell'Imperatore nella Sala della Suprema Armonia della Città Proibita a Pechino.
Presso la Scuola di Alta Formazione dell' Istituto del Restauro è stata docente di Esegesi delle fonti tecniche, approfondendo con interesse la ricerca nel campo delle tecniche di esecuzione dei dipinti, in particolare dei procedimenti di produzione de pigmenti antichi e della doratura.
In questo contesto ha ampliato le sue conoscenze nell'ambito dei manoscritti a contenuto tecnico-alchemico, partecipando a convegni in Italia e all'estero e curando diverse pubblicazioni scientifiche.
Ha esposto in mostre personali e collettive in Europa (Roma, Milano, Torino, Padova), Spagna (Barcellona), Danimarca (Copenhagen), Repubblica Ceca (Praga) a negli Stati Uniti (New York) in spazi pubblici (Musei di Arte Contemporanea, Ambasciate, IIC Istituti italiani di Cultura all'estero, Teatri, Edifici di culto) in gallerie private e in studi di architettura.
E' stata rappresentata o in permanenza presso Agora Gallery (N.Y.), Galleria RossoCinabro (Roma), Galleria Ariele (Torino).
Finalista nel 2021 al Premio Internazionale Pordelio.
Nel 2021 e nel 2020 ha esposto presso la Fondazione Campana dei Caduti di Rovereto (TN) per IIA/AIAP-UNESCO, nel 2020 presso BIAS Institute, Biennale Internazionale di Arte Contemporanea Sacra.
Selezionata nel 2020 a ICCR – Indian Council for Cultural Relations Art Competition (categoria artisti esperti) New Delihi, nel 2019 alla Biennale di Firenze, nel 2014 al 44° Premio Internazionale Sulmona,finalista nel 2011 al Premio Internazionale ItaliaArte, Villa Gualino (Torino).
Ha realizzato oggetti di scena teatrali.
Artista professionista membro di IAA/AIAPI UNESCO.
Presente in cataloghi nazionali ed internazionali.
Le sue opere si trovano in collezioni italiane e straniere.